Story of Port Wakefield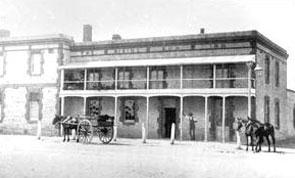 The area around Port Wakefield was initially explored by the first white man, Captain Matthew Flinders in March 1802. The area was already inhabited by aboriginals from the Kaurna Tribe. Their land stretched from Cape Jervis in the South to Crystal Brook in the North, across to Gawler and Myponga in the East.
With the discovery of Copper at Kapunda in 1842 and also richer deposits at Burra in 1845, there came a need to develop a more efficient way of transporting the ore and supplies from the mine(s). Drays loaded with 2 ½ tons of Ore took 3 weeks to make a round trip to the Port in Adelaide.
In 1849 the mouth of the Wakefield River was discovered by Mr Buck, a lighterman. It was then deemed as a suitable site (once dredged) to become a harbour from which ore and supplies could be transported to and from. The decision to develop a port, came from the recommendation of Thomas Lipson to the then Governor, Sir Henry Edward Fox Young. The port was then to become known as Port Henry. As Port Henry (later to become Port Wakefield) developed, so did many other towns along the route from Burra to the Port. Mintaro, Auburn and Balaklava were just a few. Unfortunately with the creation of the Railway Line from Adelaide to Gawler, and then onto Kapunda, the Port declined.
The Port changed its focus from the mining industry to the pastoral industry. The wool industry in particular was a major product being exported through the port. In 1866 it was second only to Port Adelaide for the quantity shipped from ports throughout the state. In 1870 a Tramway was established to service towns inland to Auburn. These were horse drawn trams which were hauled to Auburn and then returned to Port Wakefield. A feature of this system was that for the return journey, horses were loaded onto carriages, and the trams allowed to travel down the mild slopes under the influence of gravity. The tramway was further developed into a railway system that allowed goods and produce from other towns to be directed through Port Wakefield for transfer onto ships.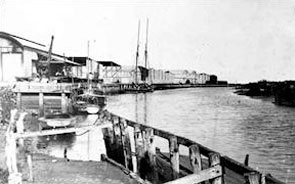 It was a raw town with the town population made up of a mix of sailors, bullock drivers and muleteers. The muleteers were Spanish speaking people who originated from Monte Video, in Uruguay. They were brought in and employed by the Copper Company in 1853. The town continued to develop over the years becoming an important town in South Australia's' developing economy.
Today it is still a vibrant community that caters to the agricultural industry, developing tourism market, professional and recreational fishing industry, Seven Point Pork abattoir, chicken farms and as a centre servicing the needs of motorists travelling on Highway One.